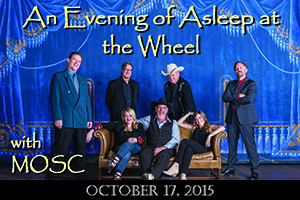 An Evening of Asleep at the Wheel with MOSC
Saturday, October 17, 2015
7:30 PM | Wagner Noël Performing Arts Center
Gary Lewis, Conductor
Join us for an evening as Asleep at the Wheel joins the Symphony as they boogie back to the Basin in their "Hot Rod Lincoln."  
All ticketing is handled through the Wagner Noël Performing Arts Center. It is the policy of the WNPAC that ALL attendees must purchase a ticket including toddlers/babies.
---

Asleep at the Wheel - "Boogie Back To Texas"
...
Asleep at the Wheel has seen miles and miles of Texas. They got their kicks on Route 66. And, in 2010, the band clicked another milestone on the odometer – their 40th anniversary. Now in their 45th year, the band continues to introduce the western swing genre to a new generation on tour.
"It's been an amazing ride. From Paw Paw to San Francisco to Austin, we've seen it all," says Wheel front man Ray Benson. "But, rest assured, there is still so many exciting projects in the works such as our brand new tribute album coming this March, Still The King: Celebrating the Music of Bob Wills and His Texas Playboys …The Wheel keeps rolling!"
It all started when Ray Benson, Floyd Domino, and Lucky Oceans, along with a Vermont farm boy named Leroy Preston; Virginian Chris O'Connell; and Gene Dobkin, a bass player and fellow classmate of Benson's from Antioch College in Yellow Springs, Ohio, joined forces. They began with a simple goal: to play and help revive American roots music.
Since their inception, the band has won nine GRAMMY awards, released more than 20 studio albums and charted more than 20 singles on the Billboard country charts. In 1971, the band signed their first record deal after Van Morrison mentioned they "play great country music" in an interview in Rolling Stone. Their debut record, Comin' Right At Ya, was released in 1973 on United Artists. The release of Texas Gold in 1975 brought the band national recognition, with the single "The Letter That Johnny Walker Read" becoming a top-ten country hit. The band has been awarded "Touring Band of the Year" (CMAs, 1976) and the "Lifetime Achievement in Performance" (Americana Music Awards 2009). In 2010, they earned a GRAMMY nomination in the newly minted Best Americana Album category for their critically acclaimed Willie & The Wheel.
Owned by Ray Benson, Bismeaux Records has won "Best Local Record Label" three years consecutively in the Austin Music Awards. Between 2005 and 2012, Ray Benson wrote, produced and starred in the Bob Wills musical A Ride With Bob. The production sold 70,000 tickets in 18 cities nationwide including the Kennedy Center in 2006. In 2007, Benson performed with Carrie Underwood & Johnny Gimble on the GRAMMY Awards Telecast in a special GRAMMY Salute to Bob Wills.
On March 3rd, 2015 the band will release their forthcoming tribute album Still The King: Celebrating the Music of Bob Wills and His Texas Playboys on Bismeaux Records.
---
SPONSORED BY:
Carol & Tom Chandler