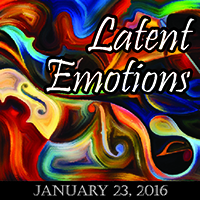 Latent Emotions
Saturday, January 23, 2016
7:30 PM | Wagner Noël Performing Arts Center
Gary Lewis, Conductor
John Madura, violin
von Suppé – Poet and Peasant Overture
Navarro – Latent Emotions (US premiere)
Tchaikovsky – Symphony No. 5
All ticketing is handled through the Wagner Noël Performing Arts Center. It is the policy of the WNPAC that ALL attendees must purchase a ticket including toddlers/babies.
---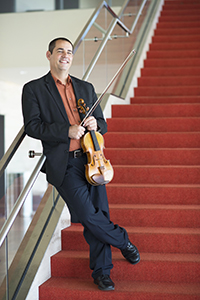 JOHN MADURA - VIOLIN
John Madura, a native of Arden Hills, Minnesota, began studying the violin at the age of three and has been playing professionally since he was six years old. Mr. Madura grew up in a musical family; his father is a cellist and conductor, his mother is an oboist, and his sister is a cellist. The Madura family quartet experience offered Mr. Madura an early and somewhat hilarious perspective on chamber music. (The Maduras love to laugh!) From age seven to seventeen, he switched gears and became a springboard diver. Music and violin were constant, but overshadowed by diving during those years. As a diver, he won numerous state, regional, and national titles. (Mr. Madura no longer dives unless his children need a dose of cool at the local pool.)
He is currently serving in his eighth season as Concertmaster of the Midland Odessa Symphony orchestra and First Violin in the Permian Basin String Quartet. Mr. Madura is Concertmaster of the Big Spring Symphony in Big Spring, Texas and the Southwest Symphony in Hobbs, New Mexico. He is also associate Concertmaster of the Abilene Philharmonic. He is on faculty at the University of Texas Permian Basin where he teaches, coaches, and performs.
Mr. Madura's career as a violinist has been a joyous journey because of the rich diversity it has offered him. From playing concerti in front of an orchestra, in a smoky jazz club, the most sublime hymn, or Late Beethoven quartets, Mr. Madura feels truly blessed.
Some highlights of Mr. Madura's career include performances and tour of "Short Stories", by David Puckett with the Abilene Christian University wind ensemble, the Permian Basin String Quartet in January 2015, and performing the violin part in the Broadway production of "Chicago" in April 2015. He has been enjoying sharing master classes with the students of Milam elementary in Odessa, Texas since 2011. In 2010, Mr. Madura performed the Brahms concerto to high praise with the MOSC. In 2004, he was the winner of the Texas Tech University Concerto Competition and performed the Brahms Violin Concerto with the TTU Symphony Orchestra under the baton of Gary Lewis. A year later, he and his then fiancé, Melissa were invited to perform Mozart's Sinfonia Concertante with the Caprock Pro Musica Chamber Ensemble in a concert celebrating the 250th anniversary of Mozart's birth. The following summer, Mr. Madura was selected as a finalist in the Schlern International Music Competition taking place in Schlern, Italy.
Mr. Madura has a long history of orchestral performance. He has been in the Baton Rouge, Acadiana, and Lubbock symphonies. He was Concertmaster of the Natchez Opera Orchestra and was Assistant Concertmaster for the Abilene Opera Orchestra. Mr. Madura has performed with Chamber Music Amarillo and was invited to participate in the Quartz Mountain Music Festival Orchestra and String Quartet. He has performed with major artists such as Itzhak Perlman, Mark O'Connor, Brad Leali, The Smothers Brothers, Mercedes Ellington, Sarah Brightman, Sandi Patty and Smokey Robinson.
Mr. Madura is highly sought after as a chamber player, pedagogue, and clinician and believes strongly in sharing his gifts with the younger generation.
Key instructors for Mr. Madura include Dr. John Gilbert at TTU, James Alexander and Kevork Mardirossian at Louisiana State University and Elizabeth Ericksen of St. Paul, Minnesota.
Mr. Madura loves to cook, travel, paint, jump off of cliffs and disc golf. He is blessed to be married to his beautiful wife/co-worker, Melissa. They have two incredible children together. 
---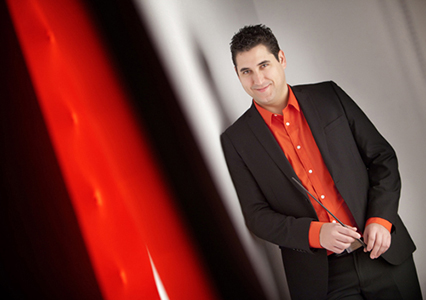 OSCAR NAVARRO - COMPOSER
Oscar Navarro was born in the village of Novelda (Alicante, Spain), where he began studying music at an early age. He received the "Outstanding Award" after completing his preliminary music studies, and was awarded both an honorary mention and a distinction at the end of his bachelor degree in the "Conservatorio Superior de Música Óscar Esplá de Alicante" (Spain).
Oscar continued his studies of composition and conducting at the "Allegro International Music Academy" of Valencia, with his mentor and friend Ferrer Ferrán. Shortly after, he was selected by the prestigious University of Southern California Thornton School of Music (Los Angeles, USA) to study Scoring for Motion Picture and TV. In Los Angeles he studied under the tutelage of renowned composers such as Joel McNeely (Peter Pan 2, The Guardian), Pete Anthony (orchestrator for King Kong, Batman and Terminator amongst others), Michael Giacchino (The Incredibles, Star Trek) and Christopher Young (Spiderman 3, Nightmare in Elm Street, etc.). Navarro had the pleasure of collaborating with Christopher Young through working as an orchestrator, creating concert suites to his film music.
Navarro has recorded in some of the most notable studios of Los Angeles, including Capitol Records, Paramount Pictures and Warner Bros. After finishing his studies, he was awarded with the "Harry Warren Endowed Scholarship for Scoring for Motion Pictures and TV" prize, as the most advanced graduating student on his course.
Today Oscar Navarro holds many national and international composition awards and his music is performed in major performance venues across the world by some of the leading orchestral and wind ensembles. Some of them include The Cleveland Orchestra (Ohio, USA), Louisville Symphony (Kentucky, USA), Princeton Symphony (New Jersey, USA), The Hollywood Studio Orchestra, Caldas Symphony Orchestra (Colombia), Royal College of Music Film Orchestra (London, UK), Symphonic Orchestra of Paraguay, Orchestra Radio Kiev (Ukraine), Downey Symphony Orchestra (Los Angeles, USA), Symphony Orchestra of Principado of Asturias (Spain), Symphony Orchestra of Medellin (Colombia), Symphony Orchestra of Region of Murcia (Spain), Spanish Youth Symphony (JONDE), Youth Orchestra of the Generalitat Valenciana (JOGV), Royal Band of the Belgian Guides (Belgium), University of Minnesota Duluth Concert Band, North Texas Wind Ensemble, University of Boston Concert Band, Madrid Wind Ensemble, Symphonic Wind Ensemble of Madrid, Symphonic Wind Ensemble of Valencia, Alicante, Bilbao and A , to name a few. His pieces have been performed in venues such as the Blossom Music Festival (Cleveland, USA), Tanglewood Music Festival (Massachusetts, USA), Lincoln Center of New York and Spanish National Auditorium.
During his professional career, Navarro has been commissioned by the Army and Navy Wind Band, International Music Festival of Altea (Alicante, Spain), Valencian Institute of Music (Valencia, Spain), Valencia Youth Orchestra, City of Downey (Los Angeles, USA) and "José-Franch Ballester & Friends" (New York) amongst others, and has conducted many orchestras and wind ensembles, including Alicante Wind Band, Band and Chorus of the "Medellín Unified School District" of Colombia (conducting his masterpiece The Seven Trumpets of Apocalypse with over 350 musicians on stage), Requena Philharmonic Orchestra (Valencia), Orchestra Radio Kiev, Macedonia Philharmonic Orchestra, Santa Cecilia Classical Orchestra (Excelentia Foundation), the University of Minnesota Duluth Concert Band, European Royal Ensemble and Spanish Symphony Orchestra.
Within his busy schedule, Oscar Navarro is often asked to give master classes for both film and classical music, in European and North America Universities among others, including the 25th festival of Cinema "Jove" (Valencia, Spain), CIFICOM (Sci-Fi Film Festival of Madrid)), Chapman University (Orange County, California), II International Wind Ensembles Symposium (Medellin, Colombia), Symphony Orchestra of Manizales (Colombia), University of Southern California and University of Minnesota Duluth.
Oscar was recently awarded the "HOLLYWOOD MUSIC IN MEDIA AWARD" (Los Angeles), in the classical music section. His film music has received many award nominations, including the "10th Cinematography Music Critics Awards", "Mundo BSO Awards", "XIII Goldspirit Awards" and "Hollywood Music in Media Awards". In February 2014 he received a GOYA nomination from the Spanish Film Academy for his soundtrack for the film "The Mule". 
---
SPONSORED BY:
Dr. James & Sharon Humphreys
Friends of John Madura