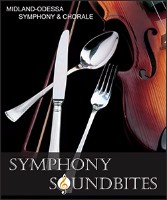 Join us before each Masterworks performance by purchasing a ticket to the scrumptious pre-concert supper in the Rea-Greathouse Recital Hall in the Wagner Noel Performing Arts Center. Dine with your friends as Maestro Gary Lewis and the guest artist(s) provide you with an insider's view of the evening's program. Bring your friends and make new ones as you learn about the music and enhance your symphony experience! 
Purchase tickets by calling 432-552-4439.
All Symphony SoundBites Suppers include salad, bread and butter, dessert, iced water, iced tea or coffee. A cash bar is available inside the dining hall.
---
#4  April 8, 2017 (must purchase by Monday, April 3, 2017 to accommodate catering)
The Firebird
CHICKEN STUFFED w/ MUSHROOMS & PEPPERCORNS served with Caesar Salad, Roasted Garlic Mashed Potatoes, Seasonal Vegetable Medley, Bread & Butter, Berry Tartlets, coffee, iced tea and water.
---
SPONSORED BY:  Jeannette & Mark Kolokoff
PAST SOUNDBITES SUPPERS:
#1  September 10, 2016
Opening Night: Orchestral Blockbusters
WILD HERB CRUSTED CHICKEN BREAST served with Potatoes au Gratin, Roasted Seasonal Veggies, Caesar Salad, Roll & Butter, Choice of Lemon or Chocolate Dessert Bar, coffee, iced tea and water.
#2  November 5, 2016
Scheherazade
GRILLED PORK CHOPS served with Mashed Sweet Potatoes with Pecan Butter, Caesar Salad, Roll & Butter, Peach Cobbler with Whipped Cream, coffee, iced tea and water.
#3  January 21, 2017
Beethoven
ITALIAN PASTA TRIO -  Lasagna, Fettuccine Alfredo and Tortellini Primavera, served with Caesar Salad, Garlic Bread, Homemade Cookies, coffee, iced tea and water.