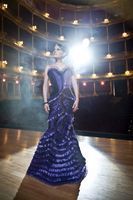 CONCIERTO DE AMOR
Saturday, November 6, 2021
7:30 PM | Wagner Noël Performing Arts Center
Gary Lewis, Conductor
Featuring soprano Bárbara Padilla from America's Got Talent! Music by Falla, Ginestra, Marquez and more.
Tickets start at $11 | Students $8 
CLICK TO PURCHASE ONLINE
800-514-3849
Wagner Noël Box Office M-F, 1-5PM
Scheduled programs and individuals are subject to change. Ticketing is handled through the Wagner Noël Performing Arts Center - all ticketing, security, and venue policies apply.
---
Bárbara Padilla - Soprano
Vibrant classical crossover soprano Bárbara Padilla dazzles audiences with her powerful, transcendent voice and turns timeless songs into enchanting adventures that ignite the imagination, exhibit her extraordinary operatic technique and make joyful hearts dance. Celebrated globally as "America's Angel," her vocal performances resonate with the healing energy of music. Painting pictures of human resiliency and hope, Barbara's fame reached center stage as she achieved outstanding reviews for her performances on "America's Got Talent." By emphasizing the most memorable, transformative moments of her own emotional journey, her soaring vocals inspired fans throughout America and abroad.
Ms. Padilla's very colorful musical experience was also highlighted by the presence of Mexico's most prolific and famous singer songwriter, the late Juan Gabriel. Bárbara's voice fascinated the composer and prompted him to write a song for her, which she performed along with other pieces, during the tours that framed Juan Gabriel's last two years.​
Fluent in Spanish, English, Italian and French, Bárbara has given concerts and recitals throughout the United States, Italy and Mexico, showcasing her beautiful and soaring voice through an incredible variety of genres. Her adventurous spirit, versatility, and histrionic power have taken her to perform on stages of all sizes: from the small TV studio to massive open plazas and sold out stadiums. Some examples are - The Minute Made  Park, The NRG Stadium, and the Toyota Center in Houston, TX, the Texas Motor Speedway in Fort Worth,  TX, The Auditorio Nacional and Teatro de Bellas Artes in Mexico City, The Alhóndiga de Granaditas in Guanajuato, The Degollado Theater in Guadalajara, etc.   Her repertoire spans from beloved operas such as La Boheme, Turandot, Tosca, Madame Butterfly, La Traviata, to poignant oratorios like Verdi's and Mozart's Requiem Masses and other masterworks including Beethoven's Ninth Symphony, Joseph Haydn's Nelson Mass and Carl Orff's Carmina Burana.
---
PROUDLY SPONSORED BY:
Dee Anna & Johnny Arellano and Lisset & Benjamin Velasquez