Presented by Lissa Wagner with Frances Brown & Midland–Odessa Symphony & Chorale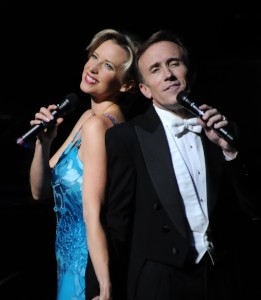 DANCING & ROMANCING
Saturday, March 2, 2019
7:30 PM | Wagner Noël Performing Arts Center
Gary Lewis, Conductor 
Broadway Stars Joan Hess and Kirby Ward perform with the symphony in a romantic and entertaining evening of Hollywood song and dance! Inspired by the likes of Fred Astaire, Ginger Rogers and Gene Kelly, this evening will put a song in your heart and have you dancing in your seat!


"Wow! ... one of the most prolific Pops performances in recent history... Hess and Ward sang and danced their way through a nearly two-hour show and did so flawlessly... The energy generated on the stage was palpable." - Las Vegas Review-Journal
 
"In addition to marveling at the seemingly limitless gifts of the two singer/dancers, we got to revel in some of the greatest music ever composed." - Gazettes - Long Beach
TICKETS $30 - $50 | Students $17
CLICK TO PURCHASE ONLINE
800-514-3849 or Wagner Noel Box Office M-F, Noon-5pm
Scheduled programs and individuals are subject to change. Ticketing is handled through the Wagner Noël Performing Arts Center - all ticketing, security, and venue policies apply.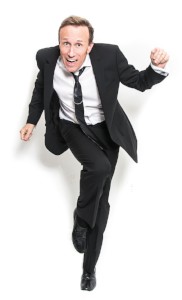 KIRBY WARD
The quintessential song and dance man, Kirby Ward has entertained the world over, performing for queens, presidents, first ladies and dignitaries on nearly every continent on the globe. Born a California boy, he's lived and played in Los Angeles, New York, London, China, Australia, Europe, Japan and now makes his home in Connecticut while continuing to travel the world as an actor, writer, director and choreographer.
When cast as Bobby Child in the London production of Crazy For You, Kirby packed up his family and moved the whole bunch to Kensington for a year. His portrayal of the lead character in this West End premier netted him an Olivier award nomination as well as the honor of meeting and performing for the royal family on the Queen Mum's birthday. You can hear him on the original London cast album for First Night Records.
As an actor he's run the gamut of song and dance roles, playing every "Billy" or "Bobby" from My One and Only to 42nd Street, and a couple of Don's and Tom's thrown in to mix things up (That would be Singin' in the Rain and No No Nanette for those keeping score). Departing from the song and dance motif has lead Kirby into such roles as King Herod in Jesus Christ Superstar, Arnolph in School For Wives, Vernon in They're Playin' Our Song, and even a stint as Che in Evita.
New York area audiences have seen Kirby's work on Broadway in Hal Prince's Show Boat! (Frank Schultz), Woman of the Year at the Palace, Never Gonna Dance at the Broadhurst and in the Off-Broadway revival cast of Cocoanuts, (Harvey) and in Company (David). His direction and choreography in the metro area for Dames at Sea, The Jazz Singer and Grease were all critically acclaimed. On television he's appeared on Law and Order, Special Victims Unit, General Hospital, The Tonight Show, and numerous commercials. Film appearances include For the Boys, Pennies From Heaven and S.O.B. Kirby was honored to portray Bob Hope at the Library of Congress' celebration for Mr. Hope's 100th Birthday, an event hosted by legendary Dick Cavett.
In Los Angeles Kirby choreographed portions of Debbie Reynolds' and Donald O'Connor's Las Vegas acts, appearing in both for a number of years as a singer and dancer and trained Bette Midler and James Caan in song and dance technique for the 20th Century Fox film For The Boys. He rounds out his contribution to the entertainment field by writing for television for Hanna Barbera Studios and the regional stage as one of the creators of the musical The Gypsy King at the Village Theatre in Ithaca, WA. Recently, his original short film Down in the Mouth was awarded best short film at the Kent Film Festival in Kent, CT.
---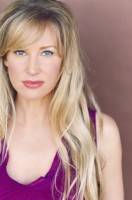 JOAN HESS
Joan Hess played the role of the wealthy and hilarious Tanya in her fifth Broadway show, Mamma Mia. She was also seen as Jessica (the "Leggy Blonde") in HBO's award-winning comedy series, Flight of the Conchords. She recently had the great honor of working with television's iconic director Jay Sandrich (Mary Tyler Moore, Bob Newhart, Get Smart, Cosby Show) when she played Doris in Same Time, Next Year (Best Actress Nomination) and Jennie in Neil Simon's semi-autobiographical play Chapter Two. Prior to that, she had the great fortune of playing the plum role of Billie Dawn in Garson Kanin's classic play Born Yesterday. Ms. Hess was also featured on Broadway as Patsy in Crazy for You, as Edie and Hattie in Kiss Me Kate, as Sophia in Dirty Rotten Scoundrels, where she understudied the lead roles of Christine and Muriel, and as Bridgette in Bells are Ringing, where she understudied Faith Prince in the lead role. She appeared at the Lincoln Center in the lead role in Dessa Rose, the powerful Lynn Ahrens/ Stephen Flaherty piece, directed by 10-time Tony Award nominee, Graciela Daniele. She appeared as Betty in the First National Tour of Sunset Boulevard, Polly in the First National Tour of Crazy for You, and she toured the country with 42nd Street and Beehive, as well.
Regional theater audiences and critics, alike, lauded her performance in the title role in Gypsy (Best Actress Nomination) at the Repertory Theatre of St. Louis and Cincinnati Playhouse in the Park, and as Picasso's first love, Fernande Olivier, in the World Premier of La Vie en Bleu, at Philadelphia's Walnut Street Theater. As Ann in The 1940's Radio Hour she also received a Best Actress Nomination. She played the lead role of Maddy in the Australian import Hot Shoe Shuffle, Lilly McBain in Swingtime Canteen, Irene Molloy in Hello Dolly with Avery Schreiber, Peggy in The Taffetas, Irene in Crazy for You, Grace in Annie, and Rona in The 25th Annual Putnam County Spelling Bee. Other Regional appearances include Grand Hotel, Closer than Ever, Sweet Charity, and the lead role in the World Premiere of Noel Coward and Jeffry Hatcher's Bon Voyage at the Denver Center for the Performing Arts, among others. Her non-musical regional performances include the plays Steel Magnolias (Shelby), Six Characters in Search of an Author (the Actress), The Dining Room (Second Actress), Shakespeare's The Winter's Tale in the lead role of Queen Hermione, and The 39 Steps (Annabella/Margaret/Pamela), which she also Assistant Directed and Choreographed.
Ms. Hess was featured in the PBS Great Performances series in My Favorite Broadway: The Love Songs, hosted by Julie Andrews. She has performed with numerous symphonies around the world, from Houston, Atlanta, North Carolina and Detroit Symphonies to the Philly Pops and the Hong Kong Philharmonic. In 2002, she had the privilege of singing for the World Economic Forum following Mayor Bloomberg's address.
Joan served as script supervisor on the independent short film entitled Down in the Mouth. She also hosted and produced live television for three seasons, acted in over thirty commercials, and modeled for many years. She's a Colorado native and is blissfully married to actor and powerhouse tenor, David Hess, with whom she toured South Africa, England and Italy for the Travel Channel's
Fantasy Rails for Millionaires.
---
PROUDLY SPONSORED BY: