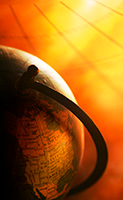 FROM EAST TO WEST
Saturday, January 25, 2020
7:30 PM | Wagner Noël Performing Arts Center
Gary Lewis, conductor
Kevin Young, tuba
Jiang Liu, guest conductor

GUAN XIA – Sorrowful Dawn Overture
VAUGHAN WILLIAMS – Tuba Concerto
DEBUSSY – Prelude to the Afternoon of a Faun
COPLAND - Rodeo
Tickets start at $10 | Students FREE
CLICK TO BUY ONLINE
800-514-3849 | Wagner Noël Box Office M-F, 12-5PM
Scheduled programs and individuals are subject to change. Ticketing is handled through the Wagner Noël Performing Arts Center - all ticketing, security, and venue policies apply.
---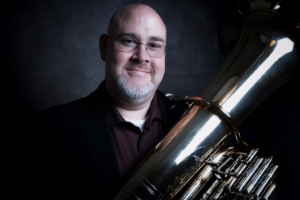 KEVIN YOUNG - TUBA
Dr. Kevin Young is a native of Baton Rouge, Louisiana where he began his music career playing trombone and tuba at the age of 11. After graduating from high school, he attended Louisiana State University. His academic career was interrupted with his enlistment into the United States Army. He spent nearly nine years serving his country at four separate duty stations. His assignments were to the 1st Calvary Division Band in Ft. Hood, Texas, 8th Army Band in Yongsan, Seoul, Korea, The United States Continental Army Band in Ft. Monroe, Virginia and the 389th Army Band (AMC's own) in Aberdeen Proving Grounds, Maryland. Dr. Young has performed extensively throughout the East Coast from Orlando, Florida to Halifax, Nova Scotia. He has also performed as a free-lance musician outside of his military assignments with many chamber ensembles.
Now out of the military, Dr. Young completed his D.M.A. at Texas Tech University, where he studied with Dr. Kevin Wass, and has completed both the Bachelor of Music and Master of Music degrees from Louisiana State University. He maintains an active private studio where many of his students have made the All-State, Area, and Region bands. He also serves as Adjunct Faculty for the University of Texas of the Permian Basin (UTPB) and Midland College. One of his favorite teaching engagements is the Bowie Fine Arts Academy in Midland, TX where he teaches 4th-6th grade band students. Dr. Young has also served on the faculties of Wayland Baptist University, and Lubbock Christian University.  Just recently, he had a successful inaugural run of "Kevin Camp", where he teaches brass fundamentals to students aged 14 years old and older.
Dr. Young is the Principal Tuba player for the Midland Odessa Symphony & Chorale, Big Spring Symphony, and the Lone Star Brass quintet. He has performed with the Louisiana Philharmonic Orchestra, Rapides Symphony Orchestra, Lake Charles Symphony, San Angelo Symphony, Dominion Brass Band in Virginia, and the Salt River Brass in Phoenix, Arizona. His playing has been greatly influenced by Dr. Kevin Wass, Gene Pokorny, Randy Hawes, Dr. Joseph Skillen, Larry B. Campbell, Sam Pilafian, Pat Sheridan, Deanna Swoboda, and Robert Nuñez.
In his spare time, Kevin is an avid cook learning new and creative Cajun recipes, but he is still learning how to create the perfect omelet. However, his favorite activity is spending time with his wife, Lee Ann, and their four puppies: Ginger, Charlie, Sophie, and Myrtle.
---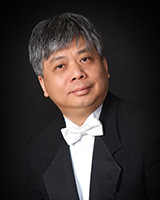 JIANG LIU - GUEST CONDUCTOR
Dr. Jiang Liu obtained his Bachelor's of Music from the Sichuan Conservatory of Music and his Master's Degree in Violin Performance from the University of Louisiana-Monroe. Dr. Liu came to Odessa, Texas in 1996 to work at ECISD as a strings teacher under the mentorship of Mr. Charles Nail. As a member of the Midland Odessa Symphony Orchestra, he played violin and viola for five years. In 1998, encouraged by his colleagues and by his own experiences as a teacher and performer, he furthered his professional growth by studying conducting with Dr. Tom Hohstadt. Under his teaching, Jiang Liu was accepted by the prestigious American Academy of Conducting at Aspen, Aspen Music Festival and School, where he studied with David Zinman. He was then accepted by the School of Music at University of Nebraska-Lincoln where he studied with Dr. Tyler White and where he obtained his Doctor of Musical Arts (DMA) degree in Orchestral Conducting.
In 2004, Jiang Liu became the Music director and Conductor of the University Symphony Orchestra at the University of Dayton, where he also taught as a Professor of Conducting and Coordinator of String Studies. He was also the Conductor of Lincoln Union College and Concordia University at Nebraska. He has been invited as a guest conductor and professor for multiple orchestras including the Cincinnati Music Conservatory, University of New York, Baylor University, University of San Diego, Hofstra University, Miami University, Bowling Green State University, University of Northern Iowa, Miami Valley Orchestra, and the Cincinnati Music Festival. Dr. Liu has also been invited to speak at the National Conference of American College Orchestra Directors in both Provo and Atlanta. 
In 2013 he become the Music Director and Principal Conductor of the Chengdu Symphony Orchestra, Guest Professor of the Sichuan Conservatory of Music, Music Director of the Sichuan Conservatory Symphony Orchestra, and the Music Director of Sichuan Normal University Symphony Orchestra. In China, he has been invited as a guest conductor for orchestras across the country including those in Beijing, Shanghai, Xiamen, Kuming, Chengdu, and Chonqin. From 2005 to 2018 he has conducted more than 100 Western master symphonic works in China. As a life-long educator, he has devoted much of his time to developing students in their musical pursuits. Many of his students have been accepted to conservatories across the U.S. including Eastman, Juilliard, New England, Peabody, Cincinnati, Austin, Miami, Indiana, Michigan, Bowling Green, and Nebraska.
---
PROUDLY SPONSORED BY: