Presented by Lissa Wagner with Frances Brown & Midland–Odessa Symphony & Chorale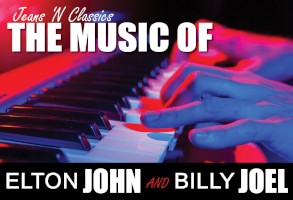 JEANS 'N CLASSICS 
THE MUSIC OF ELTON JOHN & BILLY JOEL
Saturday, May 4, 2019
7:30 PM | Wagner Noël Performing Arts Center
Gary Lewis, Conductor 


Jeans 'n Classics returns to the MOSC stage to showcase two giants of Pop: Elton John and Billy Joel. The music of these Pop icons paired with the sounds of the orchestra and the symphony chorale will surely bring the crowd to their feet.
Wear your jeans and come enjoy a fun night of music with us!
TICKETS $30 - $50 | Students $17
CLICK TO PURCHASE ONLINE
800-514-3849 or Wagner Noel Box Office M-F, Noon-5pm
Scheduled programs and individuals are subject to change. Ticketing is handled through the Wagner Noël Performing Arts Center - all ticketing, security, and venue policies apply.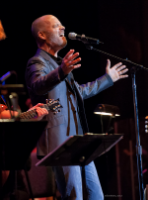 JEAN MEILLEUR - LEAD VOCALIST / GUITAR
Jean Meilleur has been a headliner with Jeans 'n Classics for over 20 years. In that time he has performed with scores of major North American orchestras, lending his distinctive voice to some of the greatest popular music of our time.
Originally from Madison WI, Jean was born and remains a Green Bay Packer fanatic! He moved to Detroit MI at a young age. Living in the Motor City helped shape his penchant for the Motown, Soul and R&B sounds of the early '70s.
Jean is a prolific songwriter who has been performing professionally for over thirty years. His singing voice can best be described as passionate and provocative, with a robust timbre that is immediately recognizable. His voice stands as a true original. Jean's voice has been heard over the years on many national radio and television jingles and advertisements. He was recently chosen as the Canadian voice of Jim Beam Kentucky Straight Bourbon Whiskey.
To quote Jean: "It's a privilege to share the stage with a symphony orchestra, Peter Brennan's superb arrangements and a flawless band. To have the opportunity to sing some of the greatest popular music of our time, in my own voice, is a rush beyond compare." Go Pack Go!
---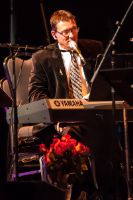 JOHN REGAN - PIANIST / VOCALS
John Regan has been a member of Jeans 'n Classics since the early 1990's. Classically trained but conditioned by rock, pop and folk music, John's repertoire is vast. Prior to joining Jeans 'n Classics he worked with Second City in London, Ontario and did solo work across southwestern Ontario. John cites Joe Jackson, Tom Waits, Elton John and Roy Bittan as influences.
Since becoming a Jeans 'n Classics regular performer, John has shared the piano with such notables as Roger Hodgson (Supertramp), Lawrence Gowan (Styx), as well as his good friend Don Paulton (Lighthouse, Jeans 'n Classics). He has performed with more than 50 orchestras across North America. in addition to the piano, John often plays host and emcee in J'nC concerts, offering insight and whimsy to the musical selections.
A high school teacher and football coach by day, John lives in London with his wife and two small children.
---

PROUDLY SPONSORED BY: