Presented by Lissa Wagner with Frances Brown & Midland–Odessa Symphony & Chorale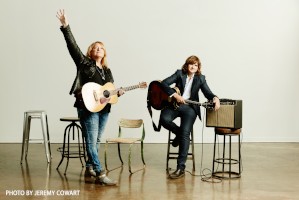 INDIGO GIRLS
WITH MIDLAND-ODESSA SYMPHONY
Saturday, October 6, 2018
7:30 PM | Wagner Noël Performing Arts Center
Gary Lewis, Conductor 
Two decades after releasing their first album and countless U.S. and international tours later, the Indigo Girls continue to make waves on the music scene. They remain the only duo with top 40 titles on the Billboard 200 each decade since the 1980s. Paired with the sound of the symphony, this will be a concert like no other!
"There were points in the performance that were almost breathtaking, as the horns and strings swelled along with Ray and Saliers' voices." - The Dallas Morning News
"Along with Simon & Garfunkel and The Everly Brothers, Amy Ray and Emily Saliers rank at the very top of all-time great duos. The sublime music-making-machine-skewering "Making Promises" is one of their finest rockers." – The Boston Herald
TICKETS $30 - $50 | Students $17
CLICK TO PURCHASE ONLINE
800-514-3849 or Wagner Noel Box Office M-F, Noon-5pm
Scheduled programs and individuals are subject to change. Ticketing is handled through the Wagner Noël Performing Arts Center - all ticketing, security, and venue policies apply.
---
ABOUT THE INDIGO GIRLS...
Twenty years after they began releasing records as the Indigo Girls, Amy Ray and Emily Saliers have politely declined the opportunity to slow down with age. With a legacy of releases and countless U.S. and international tours behind them, the Indigo Girls have forged their own way in the music business. Selling over 14 million records, they are still going strong. Amy & Emily are the only duo with top 40 titles on the Billboard 200 in the '80s, '90s, '00s and '10s.
"When I hear the symphony come in, it's a convergence of a lot of feelings," says Emily Saliers, one half of the iconic Indigo Girls. "First, you can't believe your good fortune that it's really happening, and then you're hit with the power of this enormous, full orchestra coming from behind you. Even when we play by ourselves now, I can't perform these songs without hearing the orchestra in my head."
In 2012, Saliers and her Indigo Girls partner Amy Ray embarked on a bold new chapter, collaborating with a pair of orchestrators to prepare larger-than-life arrangements of their songs to perform with symphonies around the country. The duo found an elusive sonic sweet spot with the project, creating a seamless blend of folk, rock, pop, and classical that elevated their songs to new heights without scarifying any of the emotional intimacy and honesty that have defined their music for decades. Now, after more than 50 performances with symphonies across America, the experiences has finally been captured in all its grandeur on the band's stunning new album, 'Indigo Girls Live With The University of Colorado Symphony Orchestra.'
Recorded in front of a sold-out audience in Boulder, CO, and deftly mixed by GRAMMY-winner Trina Shoemaker (Sheryl Crow, Emmylou Harris), the record showcases Indigo Girls at their finest: raw, real, and revelatory. Ray and Saliers' voices are both powerful and delicate here, their intertwined harmonies riding on the crest of an emotional tidal wave created by Sean O'Loughlin and Stephen Barber's dazzling arrangements. The orchestrations are as richly cinematic as a film score (think John Williams rather than J.S. Bach), and the 64-piece symphony wrings every ounce of passion from them, helping to bring the band's evocative storytelling to more vivid life than ever before. 
"We didn't want to just slap some classical music on an Indigo Girls track and call it a day," says Ray. "We wanted these songs to be as dramatic and as big as they could be. We wanted active arrangements that would make full use of the symphony and give them total reign. There was no way we were going to get onstage with all those amazing musicians and waste their talent."
When it came to recording the album, Ray and Saliers had an exceptional conductor by their side in Gary Lewis. Under Lewis' able direction, the University of Colorado Symphony Orchestra is one of the most diverse and adaptable groups around, boasting performances with everyone from Academy Award winning composer Dave Grusin, to multi-platinum singer/songwriter Natalie Merchant. After a sold-out show with the orchestra in the spring of 2016, it was clear to Ray and Saliers that Lewis and the ensemble would be perfect for a live album.
The power of unity, both in music and in life, has been an Indigo Girls calling card ever since they burst into the spotlight with their 1989 self-titled breakout album. Since then, the band has racked up a slew of Gold and Platinum records, taken home a coveted GRAMMY Award, and earned the respect of high profile peers and collaborated from Michael Stipe to Joan Baez. NPR's Mountain Stage called the group "one of the finest folk duos of all time" while Rolling Stone said "they personify what happens when to distinct sensibilities, voices, and worldviews come together to create something transcendentally its own."
The duo has balanced their long, successful musical career by supporting numerous social causes – the Indigo Girls don't just talk the talk; they walk the walk. Both on and off the stage, Emily Saliers and Amy Ray have secured their spot as one of the most legendary musical acts of this generation.
 "Along with Simon & Garfunkel and The Everly Brothers, Amy Ray and Emily Saliers rank at the very top of all-time great duos. The sublime music-making-machine-skewering "Making Promises" is one of their finest rockers." – The Boston Herald
---
PROUDLY SPONSORED BY