IMPORTANT NOTICE: Due to the COVID-19 pandemic MOSC Spring Concerts have been cancelled. Current ticket holders will receive an email from the Wagner Noël Performing Arts Center with ticket options. We thank you for your continued support and look forward to sharing music with you again next season.
---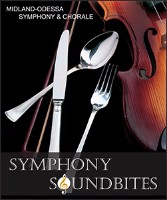 SYMPHONY SOUNDBITES
Join us before each Masterworks performance by purchasing a ticket to the scrumptious pre-concert dinner in the Rea-Greathouse Recital Hall in the Wagner Noel Performing Arts Center. Dine with your friends as Maestro Gary Lewis and the guest artist(s) provide you with an insider's view of the evening's program. Bring your friends and make new ones as you learn about the music and enhance your symphony experience! 
Dinner includes sides, dessert and beverages. A cash bar is available inside the dining room.
TICKETS: $26 each (available on a first-come-first-served basis)
TO PURCHASE CALL 432-552-4437
Menu, scheduled programs and individuals are subject to change. Ticketing is handled through the Wagner Noël Performing Arts Center - all ticketing, security, and venue policies apply.
#4  (CANCELLED) APRIL 4, 2020  Smothered Pork Chops
      Proudly Sponsored By: Carol & Tom Chandler
---
PAST SOUNDBITES EVENTS:
#1  SEPTEMBER 7, 2019  Prime Top Sirloin Steak
      Proudly Sponsored By: Marc Kondrup, Ann Parish with Betty Ann Prentice
#2  NOVEMBER 2, 2019  Chicken Piccata
      Proudly Sponsored By: Diann & John McKee, Anonymous
#3  JANUARY 25, 2020  Homemade Lasagna
      Proudly Sponsored By: Charlyne Dodge, Kirk & Williams Attorneys at Law in Memory of Janet Stafford
---
CATERED BY: