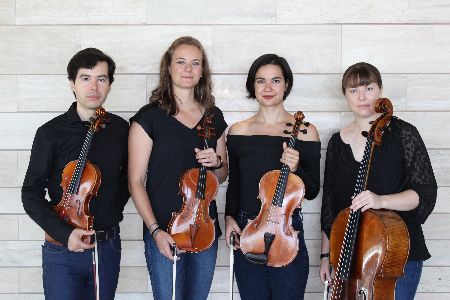 PERMIAN BASIN STRING QUARTET
Amy Huzjak - cello
Alejandro Gómez Guillén - violin
Sarah Cranor - violin
Han Dewan - viola
Described by the Odessa American as "a precise and authoritative sound" the Permian Basin String Quartet (PBSQ) is the resident quartet of the Midland-Odessa Symphony & Chorale and is comprised of the principal string players of the orchestra. The quartet members have developed a loyal audience and a reputation as a leading ensemble in the Permian Basin. The PBSQ has made recent appearances in Midland, Odessa, Abilene, Alpine, San Angelo, Big Spring, Lubbock, and Hobbs, NM. In 2015, the PBSQ was the featured guest artist on the Abilene Christian University (ACU) Tour as the soloists on Short Stories by Joel Puckett as well as gave the Texas premiers of several works by ACU visiting composer Hyunjoo Lee. In 2013 the PBSQ appeared in the Abilene Philharmonic Nocturne series as well as the Church of the Heavenly Rest Chamber series. The PBSQ frequently appears with the San Angelo State University Choir, has given masterclasses in Mexico and Lubbock, TX as well as appeared with Chamber Music Amarillo. In addition to performance, the PBSQ is very dedicated to music education. The PBSQ gives educational concerts at elementary schools in the Permian Basin throughout the year. In addition, the PBSQ serves as section coaches for several high school orchestras in the Permian Basin as well as the University of Texas-Permian Basin (UTPB) University Orchestra. The PBSQ has also partnered with UTPB as the faculty for the All-Region Summer Workshop as well as the Hartwick College Summer Festival in Oneonta, NY. Members of the PBSQ are on faculty at UTPB, ACU, Midland College and Odessa College as well as maintain private studios.
For more information about the quartet, educational programs, and schedule, please visit their Facebook Page 
Amy Huzjak

Originally from Colorado, cellist Amy Huzjak has been a member of the Midland-Odessa Symphony & Chorale since September 2011, serving as Principal Cellist and as cellist of the Permian Basin String Quartet. Amy also plays with the Abilene Philharmonic Orchestra, Big Spring Symphony, Amarillo Symphony and freelances throughout West Texas. Recent solo appearances include Shostakovich Cello Concerto No. 1 with the Midland-Odessa Symphony and Abilene Christian University Orchestra, the Adagio of the Dvorak Cello Concerto with the University of Texas-Permian Basin, and duo recitals in San Angelo, Midland, Abilene and Dallas.

A committed educator, Amy is a member of the Suzuki Association of the Americas, has a studio of over 30 students in the Midland/Odessa area, and is the Adjunct Professor of Cello at the University of Texas-Permian Basin and the Adjunct Low Strings Instructor at Angelo State University. Previous posts include Abilene Christian University, Hardin-Simmons University, Midland College, and Odessa College.

Before moving to Texas, Amy was the Principal Cellist of the Huntington (WV) Symphony Orchestra and played with several D.C area orchestras including the Fairfax (VA) Symphony Orchestra, Apollo Chamber Orchestra (MD), and the Prince William (VA) Symphony. She was a faculty member at the International School of Music in Bethesda, MD and had a private studio in College Park, MD.

Amy received her Masters degree in Music Performance at the University of Maryland in May 2011. During her time there, Amy served as an Orchestral Graduate Assistant, studying with David Teie and Evelyn Elsing. She received her Bachelors degree Summa Cum Laude from Arizona State University in May of 2009 where she studied with Thomas Landschoot. Amy has participated in numerous summer festivals including the Aspen Music Festival, National Orchestral Institute, and Killington Music Festival, studying with Michael Mermeguen, Andrew Schulman, and Brinton Smith.

Alejandro Gómez Guillén

Conductor and violinist Alejandro Gómez Guillén is entering his fifth season as Artistic Director and Conductor of Bloomington Symphony Orchestra. Following a successful tenure as Associate Conductor of Fort Worth Symphony Orchestra, he is also Artistic Director of Denver's Sphere Ensemble, Acting Concertmaster / Principal Second Violin of Midland-Odessa Symphony & Chorale and member of the Permian Basin String Quartet. Alejandro also served as Freeman Conducting Fellow with Chicago Sinfonietta, Associate Conductor of Boulder Symphony and as Music Director of Cantabile.

Recent and upcoming activities include performances with the Chicago Sinfonietta, through the Orquesta Filarmónica de Bogotá, Midland-Odessa Symphony & Chorale, SingFest Hong Kong, Bogotá's Javeriana University, Bloomington Bach Cantata Project, Midland Festival Ballet, Oregon Bach Festival Masterclass in Conducting, Weimarer Bachkantaten Akademie, ¡Canta, Bogotá Canta!, Santander Choral Festival, Cabrillo Festival with Marin Alsop, Tonos del Sur at Berkeley Festival, Permian Basin Opera, as well as a fellowship with SphinxConnect, and a residency in his native Colombia with Batuta.

Committed to working with young artists, Alejandro has served as Assistant Professor of Music at Colorado Mesa University where he taught violin, viola, courses in symphonic literature, string pedagogy and chamber music, as well as conducting the chamber and symphony orchestras. He served as Music Director of the Colorado Youth Philharmonia and has led performances with Off Broadway School of Fine Arts in Boulder, Javeriana University Symphony Orchestra, Spokane Youth Symphony, as well as University of Colorado Symphony and Chamber Orchestras.

An accomplished violinist on both modern and baroque instruments, Alejandro leads Mozart and Haydn concertos from the violin recent and upcoming seasons. He was concertmaster of Grand Junction Symphony Orchestra, Amherst Early Music Festival, and Junges Stuttgarter Bach Ensemble, with which he toured Germany and Italy including performances at Rheingau Music Festival and Berlin Philharmonie. He recently returned to Oregon Bach Festival as a member of the Berwick Academy for Historical Performance.

Alejandro's mentors include Gary Lewis, Helmuth Rilling, Matthew Halls, and Mei-Ann Chen. He holds DMA and MM degrees in conducting and violin performance from the University of Colorado at Boulder, as well as a BM in violin performance from Texas Christian University. His doctoral research includes a critical edition of Colombian composer Jorge Pinzón's violin concerto, and bringing selected dances from Bach's orchestral suites in their original form to developing orchestras through a historically informed approach to playing on modern instruments.

When not playing, leading ensembles or reveling in the music of Bach, Alejandro spends his time singing, hiking, and making music with his wife, violinist Sarah Elizabeth Cranor. 

Sarah Cranor

Violinist Sarah Elizabeth Cranor is passionate about the freedom of sonic possibilities found in both historical and contemporary music. She is acting Concertmaster / Principal Second Violin with the Midland-Odessa Symphony, a member of the Permian Basin String Quartet, and performs with baroque ensembles across the greater Midwest region. Sarah directed two successful years of Tonos del Sur at Indiana University, a campus-wide historically-informed ensemble course which explored the intersection of European music with the colonization of the New World.

Recent collaborative highlights include Tonos del Sur at the [Virtual] Berkeley Early Music Festival 2020, co-direction of a production of La Púrpura de la Rosa with Nell Snaidas, Duo Anthracite performances in Colorado, Indiana and a [virtual] concert in Bogotá, Colombia, performances of Clara Schumann's music with Byron Schenkman, the Indianapolis Baroque Orchestra, Sphere Ensemble, Bourbon Baroque, IU New Music Ensemble, and guest concertmaster of the Bloomington and Lafayette Symphony Orchestras.  Collaborations that were postponed or cancelled due to the pandemic include Charlotte BachAkademie, Zenith Ensemble, Sphere Ensemble, Indianapolis Baroque Orchestra, Burning River Baroque, a recital with Music @ 1st St. Louis, the Princeton Festival, Bourbon Baroque, the Midland-Odessa Chorale, and the Bloomington Bach Cantata Project.

Sarah's recently released recordings include "The Colorful Telemann" with Indianapolis Baroque Orchestra for NAXOS Music, "Fair and Princely Branches: Music for the Jacobean Princes" with Renaissance violin band The Queen's Rebels, and the premiere of Kurt Vonnegut's Requiem with Voces Novae.   

Sarah is completing the final stages of her Doctor of Music degree in Historical Performance, with a minor in modern violin and string pedagogy at the Jacobs School of Music where she studied with Stanley Ritchie, Grigory Kalinovsky, and Mimi Zweig. Sarah works with violin students both locally and across the world, most recently including Colombia and Kenya during the pandemic. When she is not holding a violin, she makes silk instrument bags sold worldwide through Sarah's Violin Bags LLC, and she enjoys running marathons and hiking with her husband, conductor and violinist Alejandro Gómez Guillén.  They regularly perform as Duo Anthracite, with a mix of repertoire for two treble instruments from Jean-Marie Leclair to Sven-David Sandström.

Han Dewan

Violist Han Dewan has performed chamber and orchestral music throughout the United States, in addition to concerts in France, Canada, and the Czech Republic.

Recent series appearances include Union Square Chamber Music Society, Garth Newel Music Center, Blair School Chamber Showcase, National Orchestral Institute, and the Festival d'Aix (FR). She is the first female student to complete the Blair-to-Owen dual B.Mus. and MBA at Vanderbilt University.

Committed to expanding the audience for art music through multimedia collaborations, recent recitals have included poetry, film, and illuminated scores. She can be heard on albums released by Naxos, Klavier, and Navona, including the world premiere recording of Jack Stamp's "String Quartet No.1."

She is immensely grateful to her mentors: CJ Chang at the Peabody Institute, Kathryn Plummer and John Kochanowski at the Blair School, and Sherri Fleshner. She was honored to begin performing as principal violist in the Midland-Odessa Symphony & Chorale and violist with the Permian Basin String Quartet in Fall 2019.
---
Help support the Permian Basin String Quartet by becoming a "Friend". For just $25 you will assist with the purchase of concert music, guest artists and other expenses.