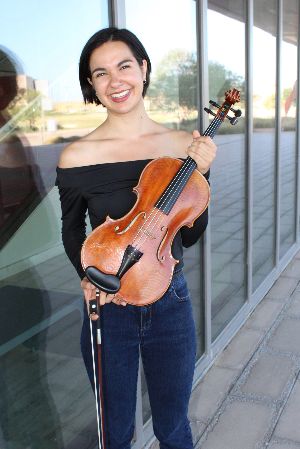 HAN DEWAN - VIOLA
Violist Han Dewan has performed chamber and orchestral music throughout the United States, in addition to concerts in France, Canada, and the Czech Republic.
Recent series appearances include Union Square Chamber Music Society, Garth Newel Music Center, Blair School Chamber Showcase, National Orchestral Institute, and the Festival d'Aix (FR). She is the first female student to complete the Blair-to-Owen dual B.Mus. and MBA at Vanderbilt University.
Committed to expanding the audience for art music through multimedia collaborations, recent recitals have included poetry, film, and illuminated scores. She can be heard on albums released by Naxos, Klavier, and Navona, including the world premiere recording of Jack Stamp's "String Quartet No.1."
She is immensely grateful to her mentors: CJ Chang at the Peabody Institute, Kathryn Plummer and John Kochanowski at the Blair School, and Sherri Fleshner. She was honored to begin performing as principal violist in the Midland-Odessa Symphony & Chorale and violist with the Permian Basin String Quartet in Fall 2019.