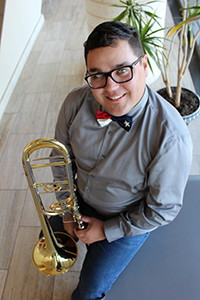 JOHN E. ELIZONDO - TROMBONE
Mr. Elizondo was appointed Principal Trombone with the Midland-Odessa Symphony & Chorale in March 2019.  He is also a member of the Lone Star Brass. 
Mr. Elizondo has been a guest musician with The New World Symphony, American Brass Quintet, and The World Famous Glenn Miller Jazz Band. 
As a music educator, Mr. Elizondo serves as faculty at The University of Texas of the Permian Basin, Midland College and Odessa College.
A native of San Antonio TX, John Elizondo earned a bachelor of music in 2013 at The New England Conservatory and graduated with a Masters of Music Degree in 2015 from The Juilliard School. John is an alumni of The Aspen Music Festival and The Music Academy of The West. 
John Elizondo is forever indebted to his teachers Joseph Alessi, Principal Trombone of The New York Philharmonic and Toby Oft Principal Trombone of the Boston Symphony Orchestra. His studies were supported in part by The Edward J. Plotkin Trombone Scholarship.