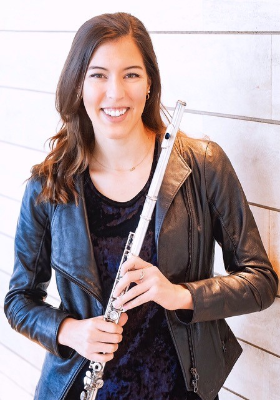 KATHERINE VELASQUEZ - FLUTE
Ms. Velasquez holds the position of Principal Flute with the Missouri Symphony and the Midland-Odessa Symphony & Chorale, where she is a member of the West Texas Winds. She has performed as a guest with the San Antonio Symphony and serves on the faculty at the University of Texas of the Permian Basin and Odessa College.  
Originally from Austin, Texas, Ms. Velasquez holds a Bachelor's of Music degree magna cum laude from Boston University and a Master's of Music degree from West Texas A&M University. She has also attended the New England Conservatory of Music and the University of Southern California Thornton School of Music. She is indebted to her mentors Helen Blackburn, Jim Walker, Linda Toote, Elizabeth Rowe, Paula Robison and Ann Kjerulf Knien. Ms. Velasquez has performed with orchestras throughout Europe and the United States under conductors Gary Lewis, Kirk Trevor, Carlos Miguel Prieto, Benjamin Zander, Robert Spano, Carl St. Clair, and David Newman. She has been the First Prize winner of the National Flute Association's Orchestral Excerpts Competition and has received top awards from the Yamaha Young Performing Artists Competition, U.S. Marine Band Concerto Competition, and the National Flute Association's High School Soloist Competition. Her festival experience includes fellowships with the YOA Orchestra of the Americas, the National Symphony Orchestra's Summer Music Institute, the Hot Springs Music Festival, and the National Music Festival.