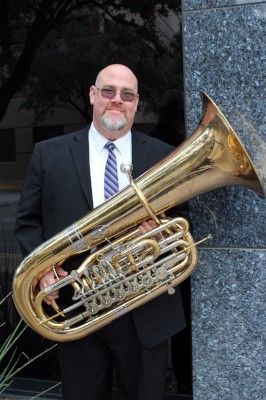 KEVIN YOUNG - TUBA
Dr. Kevin Young is a native of Baton Rouge, Louisiana where he began his music career playing trombone and tuba at the age of 11. After graduating from high school, he attended Louisiana State University. His academic career was interrupted with his enlistment into the United States Army. He spent nearly nine years serving his country at four separate duty stations. His assignments were to the 1st Calvary Division Band in Ft. Hood, Texas, 8th Army Band in Yongsan, Seoul, Korea, The United States Continental Army Band in Ft. Monroe, Virginia and the 389th Army Band (AMC's own) in Aberdeen Proving Grounds, Maryland. Dr. Young has performed extensively throughout the East Coast from Orlando, Florida to Halifax, Nova Scotia. He has also performed as a free-lance musician outside of his military assignments with many chamber ensembles.
Now out of the military, Dr. Young completed his D.M.A. at Texas Tech University, where he studied with Dr. Kevin Wass, and has completed both the Bachelor of Music and Master of Music degrees from Louisiana State University. He maintains an active private studio where many of his students have made the All-State, Area, and Region bands. He also serves as Adjunct Faculty for the University of Texas of the Permian Basin (UTPB) and Midland College. One of his favorite teaching engagements is the Bowie Fine Arts Academy in Midland, TX where he teaches 4th-6th grade band students. Dr. Young has also served on the faculties of Wayland Baptist University, and Lubbock Christian University.  Just recently, he had a successful inaugural run of "Kevin Camp", where he teaches brass fundamentals to students aged 14 years old and older.
Dr. Young is the Principal Tuba player for the Midland Odessa Symphony & Chorale, Big Spring Symphony, and the Lone Star Brass quintet. He has performed with the Louisiana Philharmonic Orchestra, Rapides Symphony Orchestra, Lake Charles Symphony, San Angelo Symphony, Dominion Brass Band in Virginia, and the Salt River Brass in Phoenix, Arizona. His playing has been greatly influenced by Dr. Kevin Wass, Gene Pokorny, Randy Hawes, Dr. Joseph Skillen, Larry B. Campbell, Sam Pilafian, Pat Sheridan, Deanna Swoboda, and Robert Nuñez.
In his spare time, Kevin is an avid cook learning new and creative Cajun recipes, but he is still learning how to create the perfect omelet. However, his favorite activity is spending time with his wife, Lee Ann, and their four puppies:  Ginger, Charlie, Sophie, and Myrtle.