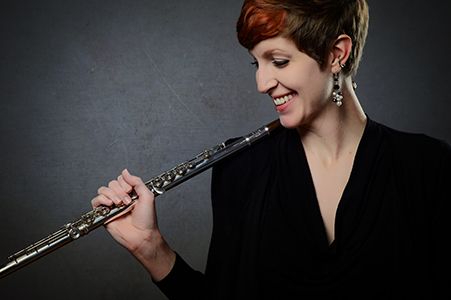 MELISSA GRAHAM HANSEN - FLUTE
Dr. Melissa Graham Hansen is the principal flutist with the Midland Odessa Symphony & Chorale, and flutist with the West Texas Winds. 
Known for her unique sound palette, Melissa enjoys performing both orchestral and chamber music. The former has led her to perform with numerous orchestras, such as the Greeley Philharmonic, Fort Collins Symphony, Lubbock Symphony, and the River Oaks Chamber Orchestra (Houston). The latter has inspired numerous projects with work towards building albums featuring both flute and guitar music as well as original music written by her father.
After joining the MOSC as a flutist in 2012, Melissa also served as an orchestra representative on the MOSC Board (2013-2014) and as an MOSC personnel manager (2014 to present). During the summer of 2016 (through the summer of 2019), Melissa left the Basin to start a family. She treasures every moment with her husband and their two little ones, Asher and Aria.
Melissa has served as a faculty member at the University of Texas of the Permian Basin and Odessa College (amongst additional institutions in other areas). She intensely enjoys teaching musicology courses in a classroom setting as well as private collegiate lessons.
Beyond this work, Melissa has taught private students of all ages since 1998. One of the unique aspects of her flute studio is the use of her own method book series, entitled Beyond the Page; praised as an "innovative" and "holistic" approach to learning the flute, these books are designed with a series of levels applicable to students ranging from the intrinsically motivated junior high school student to college and beyond. The next book in the series will be aimed at a professional audience and will seek to provide a streamlined source for honing fundamental skills.
Melissa received her Doctor of Musical Arts degree (specializing in performance and pedagogy) from the University of Colorado at Boulder, where she studied with Christina Jennings. In addition to Ms. Jennings, Melissa has studied with Pamela Endsley and Peter Lloyd, amongst others in the States as well as Scotland and England.