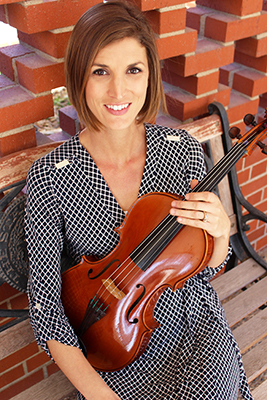 MELISSA MADURA - VIOLA
Melissa Madura grew up on a small farm in Viroqua, WI. She began playing the viola when she was 14 years old and now holds a Bachelor's degree in Viola Performance from Lawrence University Conservatory of Music, a Masters of Music from Texas Tech University and has begun her doctoral studies at Texas Tech University.
Mrs. Madura enjoys playing in solo, orchestral, and chamber music settings. This is her eighth year as Principal Violist in the Midland-Odessa Symphony and Violist in the Permian Basin String Quartet. She has been playing with the Midland-Odessa Symphony for eleven years. She plays in the Abilene Philharmonic Orchestra and has also played with Lubbock Symphony Orchestra, Chamber Music Amarillo, Big Spring Symphony, Green Bay Symphony Orchestra, LaCrosse Symphony Orchestra and was principal violist for her undergraduate and graduate institution orchestras. She was also the violist for the Texas Tech University Graduate String Quartet, Lubbock Symphony Orchestra String Quartet and Lawrence University Community Outreach Resident Ensemble with which she was invited on an international tour to Vietnam. She has appeared as a soloist with the Caprock Pro Musica Chamber Ensemble playing Mozart's Sinfonia Concertante under the baton of Gary Lewis and was also invited to play as a soloist with her teacher, Renee Skerik, playing the Bach Brandenburg Concerto No. 6.
Mrs. Madura loves to teach and is in her sixth year of teaching at UTPB as Adjunct Professor of Viola. She maintains a large studio of private students in the Midland-Odessa area and is also Orchestra Director for St. Ann's School in Midland. She has been invited to teach masterclasses at institutions such as Texas Tech University and Abilene Christian University.
Mrs. Madura's principal teachers include Renee Skerik and Dr. John Gilbert at Texas Tech University and Matthew Michelic of Lawrence University Conservatory of Music.