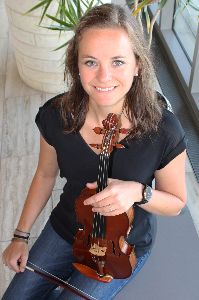 SARAH CRANOR - ACTING CONCERTMASTER & PRINCIPAL SECOND VIOLIN
Violinist Sarah Elizabeth Cranor is passionate about the freedom of sonic possibilities found in both historical and contemporary music. She is acting Concertmaster / Principal Second Violin with the Midland-Odessa Symphony, a member of the Permian Basin String Quartet and the Chasqui Quartet, and performs with baroque ensembles across the greater Midwest region. Sarah directs Tonos del Sur: a historically-informed ensemble which explores the intersection of European music with the colonization of the New World. 
Sarah's recent collaborative highlights include Tonos del Sur at the Berkeley Early Music Festival, co-direction of a production of La Púrpura de la Rosa with Nell Snaidas, Duo Anthracite performances in Colorado, Indiana, and Bogotá, Colombia, the Indianapolis Baroque Orchestra, Sphere Ensemble, and guest concertmaster of the Bloomington and Lafayette Symphony Orchestras. Collaborations that were postponed or cancelled due to the pandemic include Charlotte BachAkademie, Zenith Ensemble, Burning River Baroque, Music @ 1st St. Louis, the Princeton Festival, Bourbon Baroque, and the Bloomington Bach
Cantata Project.
Recently released recordings include "The Colorful Telemann" with Indianapolis Baroque Orchestra for NAXOS Music, "Fair and Princely Branches: Music for the Jacobean Princes" with Renaissance violin band The Queen's Rebels, "Stay at Home for the Holidays" with Sphere Ensemble, and the world premiere of Kurt Vonnegut's Requiem with Voces Novae.
Sarah holds a Doctor of Music degree from Indiana University's Jacobs School of Music. Her doctoral research focuses on the music of Santiago Billoni, chapelmaster at the Durango Cathedral, Mexico, from 1749-1756. While at IU, she studied with Stanley Ritchie, Grigory Kalinovsky, and Mimi Zweig. Sarah teaches violin students both locally and across the world, most recently including Colombia and Kenya. She performs regularly with her husband, violinist Alejandro Gómez Guillén both in string quartets and as Duo Anthracite, with a mix of repertoire for two treble instruments from Jean-Marie Leclair to Sven-David Sandström. Sarah has fallen in love with long-distance running, after running several solo marathons during the pandemic. She is currently training for her next ultra-marathon race and is looking forward to seeing where her running shoes take her!