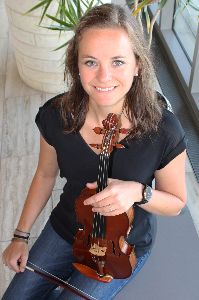 SARAH CRANOR - ACTING CONCERTMASTER & PRINCIPAL SECOND VIOLIN
Violinist Sarah Elizabeth Cranor is passionate about the freedom of sonic possibilities found in both historical and contemporary music. She is acting Concertmaster / Principal Second Violin with the Midland-Odessa Symphony, and a member of the Permian Basin String Quartet, and currently directs Tonos del Sur at Indiana University, which explores the intersection of European music with the colonization of the New World.  
Recently released recordings include the Indianapolis Baroque Orchestra for NAXOS Music, "Fair and Princely Branches: Music for the Jacobean Princes" with Renaissance violin band The Queen's Rebels, and the premiere of Kurt Vonnegut's Requiem with Voces Novae. Recent and upcoming collaborations include Tonos del Sur at the Berkeley Early Music Festival, co-direction of a production of La Púrpura de la Rosa with Nell Snaidas, Clara Schumann Romances with Byron Schenkman, guest recital with Music@First in St. Louis, the Indianapolis Baroque Orchestra, Sphere Ensemble, Zenith Ensemble, a Midwest tour of the St. Matthew Passion with the Leipzig Baroque Orchestra, Bourbon Baroque, guest concertmaster of the Lafayette Symphony, Alchymy Viols, Indiana University New Music Ensemble, guest concertmaster of the Bloomington Symphony Orchestra, the Atlanta Baroque Orchestra, Charlotte BachAkademie, Burning River Baroque, ¡Canta, Bogotá, Canta!, music director with the Bloomington Bach Cantata Project, guest leader of the Kansas City Baroque Consortium, the Princeton Festival, the Oregon Bach Festival, concertmaster of the Junges Stuttgarter Bach Ensemble, the Weimarer Bachkantaten-Akademie, and Sun Sneeze New Music. 
Sarah is completing a Doctor of Music degree in Historical Performance, modern violin, and string pedagogy at the Jacobs School of Music with Stanley Ritchie, Grigory Kalinovsky, and Mimi Zweig. When she is not holding a violin, she makes silk instrument bags sold worldwide through Sarah's Violin Bags LLC, and she enjoys running marathons and hiking with her husband, conductor and violinist Alejandro Gómez Guillén.