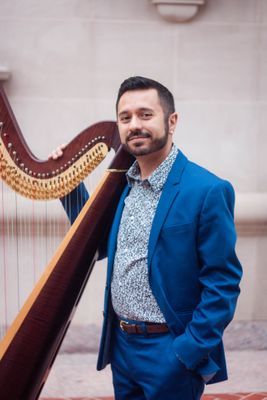 VINCENT PIERCE - HARP
Vincent Pierce is adjunct instructor of harp at the University of Texas of the Permian Basin and at Odessa College, and principal harpist of the Midland-Odessa Symphony and Chorale. Vincent is the former harp instructor for the Ector County Independent School District in Odessa, Texas, where he taught class harp at Odessa HS, Ector MS and Milam Fine Arts Magnet Elementary. He is currently pursuing a Doctor of Musical Arts degree at the Butler School of Music at the University of Texas at Austin.
A native of El Paso, Texas, Vincent holds a degree in Music Education with emphasis in clarinet from Baylor University. He began harp studies as a sophomore at Baylor, and continued at the University of Texas, where he received a Master of Music performance degree, studying with Delaine Leonard.
Vincent has performed in several countries – first in China in 2012 as a member of the Austin based band The Noise Revival Orchestra, and in 2014 throughout Asia and and Europe as a member of the University of Texas Wind Ensemble on their world tour, under the direction of Jerry Junkin. He has also been an official South by Southwest artist, performed with the Dallas Winds, and marched in the 2013 Presidential Inaugural Parade. In the summer of 2008, he studied with Jeanne Chalifoux in Alexandria, Virginia, and in the summer of 2018, Vincent studied with Metropolitan Opera principal harpist Emmanuel Ceysson at the Académie Internationale d'Été de Nice in the south of France.
He is past-resident and a founding member of the West Texas Harp Society, a chapter of the American Harp Society, Inc. While serving as president of the WTHS he brought several guest artists to Odessa, including Russian harpist Sasha Boldachev and past AHS Concert Artist Abigail Kent, through grants from Odessa Arts and the AHS. Vincent collaborated with Odessa Arts on several projects, including the Second Tuesday Salon concert series and an NEA Big Read project, 'Artpocalypse'. He has served as a Texas Music Educator's Association All-State harp judge and sectional coach, and has been a clinician at the TMEA convention and the American Harp Society conference in Redlands, California. Vincent is also a registered Suzuki harp teacher and a member of the Suzuki Association of the Americas.
Vincent performs actively throughout the state of Texas, performing regularly with Midland Festival Ballet, Permian Basin Opera, and El Paso Symphony, and he has performed with Lubbock Symphony Orchestra, Abilene Philharmonic and Corpus Christi Ballet. He has recently begun composing, and has studied composition with Donald Grantham and Yevgeniy Sharlat at UT Austin.